If you have a small kitchen and long for a breakfast bar area but think it's impossible, think again as we have found the best small kitchen layouts with incorporated breakfast bars for your inspiration.

Albeit the large fridge, this is a fairly small kitchen but has a cleverly raised worktop for a 2-person breakfast bar. This design works with most kitchens with a peninsular as long as there is room for some stools to slide in and out.

Slightly similar to the above but this is called an overhang worktop. When ordering worktops for your kitchen, choose a wider depth worktop for the area you wish to create your breakfast bar. Instead of the worktop being cut in line with your units it will pretrude out creating an 'overhang' for a breakfast bar. You can also neatly tuck your stools under it making it a great space saving solution.

This tall slim table has been placed at the end of this kitchen run to create the illusion of an L-shaped kitchen with a breakfast bar – amazing!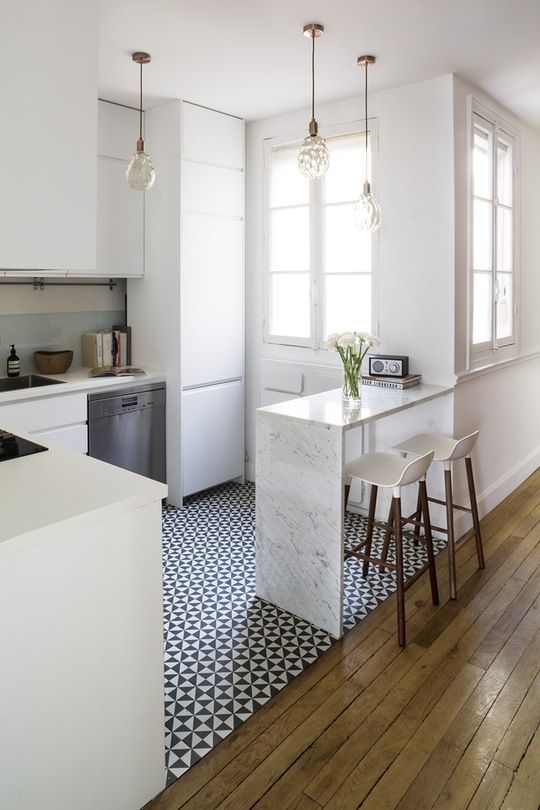 If you don't have space to add a breakfast bar to the end of your units why not utilise an empty bit of space to create a breakfast bar with two panels of worktop just like this. This design works great with an open plan kitchen and living area as it creates a partition between both spaces.

We love the quirkiness of this kitchen and the way the end of the peninsular has been used for a small breakfast bar with stools.

If you're really struggling for space, this shelf hack is a great way of creating a faux breakfast bar – and if you're lucky enough to install this against a window you can enjoy breakfast with a view every day.