If you have either a U-shaped or L-shaped kitchen then you most likely have a corner unit too. Corner units can be a struggle and annoying to get into due to the awkwardness of being in a corner and 'hidden' away but we have some handy tips to help you use them effectively. 
SHELVED CORNER UNIT
Probably the most common corner unit fitting and harder to reach. This is why we suggest using this space to store larger items like big pots and pans or your special dinner set which comes out once a year. Keep this space simple and clutter free to minimise the hassle of putting items in and taking them out.
LEMANS CORNER UNIT
A Le Mans corner unit makes great use of the hidden space in the corner of a cabinet. It is usually made up of two trays which extends out of the unit, bringing the stored items to you. It is named after the Le Mans racing track. These are ideal for storing large pots and pans as well as canned food items and spice jars.
CAROUSEL CORNER UNIT
These are round shelves which rotate 360 degrees to allow easy access of stored items. It is neat and keeps everything organised and compact. They are ideal for pots, tableware and food storage jars.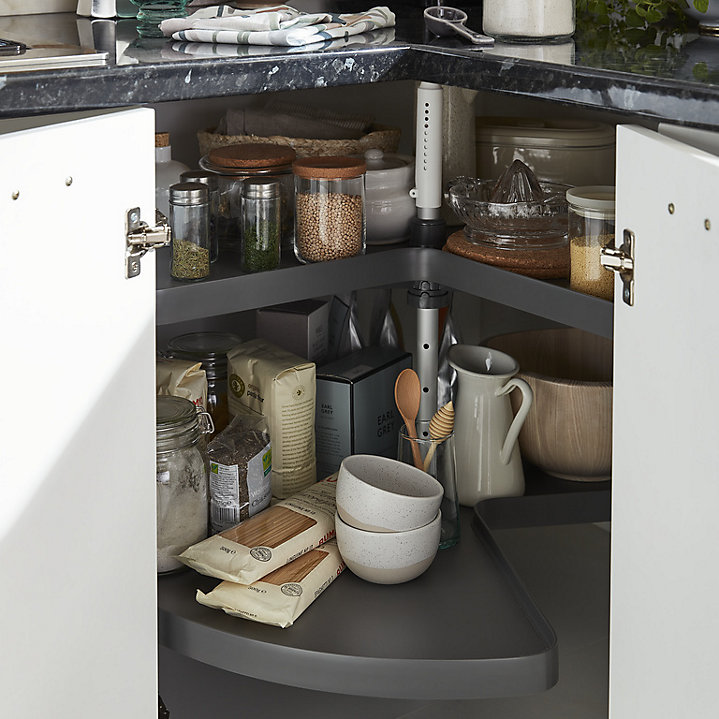 MAGIC CORNER UNIT
A Magic Corner units maximises the space in a blind corner unit. They are made of 2 wire tray fixtures which extend out one after the other. The first comes completely out and the second extends to the front. You can store virtually anything on these trays and out of the 4 styles, the Magic Corner is most efficient in maximising space.